ELLIS ISLAND TOURS . . .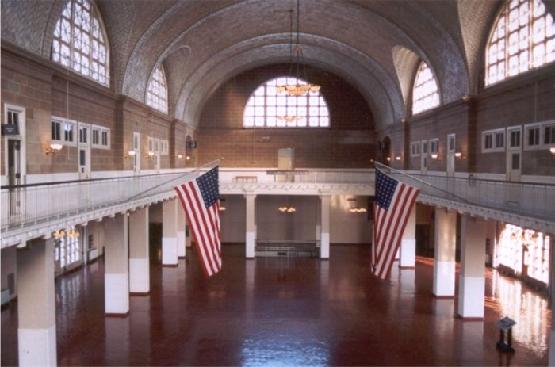 . . .with Tom Bernardin, former National Park Service Ellis Island tour guide, and author/publisher of The Ellis Island Immigrant Cookbook.
Historical tours of the Ellis Island Museum are offered to groups, organizations and individuals, including New York harbor, Castle Garden, Ellis Island, and museum orientation. Also find up-to-date information on genealogical resources, exhibits and related activities.

Your host and guide is Tom Bernardin, whose association with Ellis Island began in 1978 as a National Park Service ranger, giving tours of pre-restoration Ellis Island. His slide-lecture presentation, Ellis Island-The Golden Door led to the publication of his book, The Ellis Island Immigrant Cookbook.
Tom is a licensed New York City tour guide and a thirty-seven year resident of Manhattan, originally hailing from Lawrence (Immigrant City), Massachusetts. His goal is to provide visitors to Ellis Island and New York with a memorable, interesting, fun, comfortable and informative time as we look back to our enlightening past.
Many academic, corporate, cultural, religious, ethnic, family and school groups have toured Ellis Island with Tom Bernardin. Here are a few:

•Israeli National Defense College

•St. Anne's School of Annapolis

•University of Rochester

•Chaine des Rotisseurs

•Rondout Valley Middle School, NYS

•Philadelphia Academy Charter School

•Congregation Beth El, Bethesda, MD

•Greenwich Village Society for Historic Preservation

•Vasa Order of America Drott Lodge #168

•Cornell University Medical Center

•Temple Beth Tikvah, Madison, CT

•Amity Club of New Haven, CT

•Credite Suisse

•Societe General

•National Defense University

•Met Life

•Wardsworth Anthenium Museum of Art

•MarketResearch.com

•PriceWaterhouse Coopers

•Barnard College

•JPMorganChase

•American Express

•The Conference Board

•United Federation of Teachers

•Women's National Republican Club

•Young Presidents Organization

•United Jewish Appeal

•St. John's University

•American Society of Appraisers


•Allmerica Financial

•MasterFoods

•Cleary, Gottlieb, Stern & Hamilton

•New York State Society of Professional Engineers

•The Leadership Program (New York, New York)

•Urban Land Institute

•Dorothy Shaw Bell Choir (Ft. Worth, Texas)

•Abbott EndoVascular

•Sequa

And many more!
"We girls had a fabulous time in NYC and your personal tour was on the highlight. Thanks soooo very much. We truly enjoyed you and the tour."
--K.W.
"I've been thinking of you all week! Our entire group loved the tour, the teens and adults. Your passion for history and knowledge is contagious. I'll be in touch when I bring another group in the future!
--G. K., Mishkan Shalom
"Thank you for doing out tour. Every customer we send to you just raves about the tour!"
--A. E., The Upper Class
"Thank you SO much for leading such a wonderful tour for our fourth graders last Friday. The information you presented, the conversations with the students and staff and your ability to 'go with the flow' with such a large group of children was simply wonderful. I have never had such positive feedback from parents or students fro a field trip before. You have left a lasting impression on my students and I am grateful you were available to lead our trip!"
--T. M., St. Anne's School
"On behalf of the Greenwich Village Society for Historic Preservation, I would like to thank you for the excellent walking tour of Ellis Island you gave for us this Sunday. Your impressive knowledge and extensive research of the area's history as well as your personal interest in the history of the Statue of Liberty and Ellis Island were evident in every aspect of the walk, and everyone who attended gave us nothing but positive feedback."
--C.F., GVSHP
"Tom was inspirational, bringing the buildings to life in a way no book could ever have done." from The Sun, UK, June 16, 2007. Tour generated article about how immigration shaped Manhattan's unique neighborhoods.
"There is no better guide than Mr. Ellis Island himself, Tom Bernardin. After 28 years working there, there is not a tile or bench that he cannot tell a story about." --Jane Memmler, Sunday Express, London, UK, March 25, 2007. link (PDF opens in new window)
"Tom was a WONDERFUL host with tons of pieces of information. Not only was he familiar with the facts about Ellis Island but he was also more than willing to answer questions about NYC in general. He brings years of experience with him and the time that you spend with him moves much too quickly. For any many times as I have visited NYC I never made it to Ellis Island, so when my colleagues indicated they wanted to go I was all for it. Give yourself time to take in what there is at Ellis Island because there is so much to learn there. Thank YOU, Tom!!" -- iMar.com customer
"Tom is a great tour guide. He is very knowledgeable about Ellis Island and makes the talk enjoyable. The history is fascinating. The building is well preserved and full of interesting exhibits. I would highly recommend the personal tour guide approach." --iMar.com customer
"Mr. Bernardin's presentation was enthusiastic and very moving....His work is a credit to the Park Service, the Department of the Interior, and to the Federal Government." --Representative Jonathan Bingham CONGRESS OF THE UNITED STATES
more reviews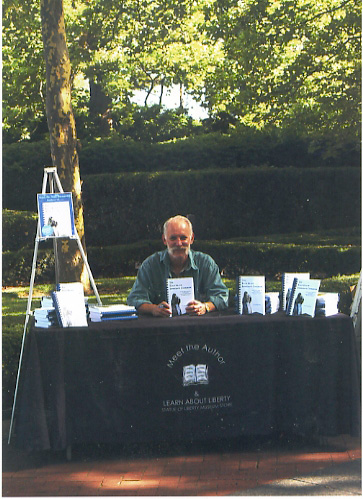 The cookbook can now be purchased online via http://www.ellisislandtours.com/pg-9-cookbook-order.htm. This allows you to order directly from Tom and use credit, debit, or PayPal. Tom also does book signings. He was on Liberty Island signing books in a "Meet the Author" program during summer, 2007.
You don't need to travel so far! Simply click "View Cart" to the left at the top of the page and buy one today and Tom will personalize it for you.
For Group Tours, please contact Tom directly at 212-229-0202 or email him at ellisbook@aol.com

Tom Bernardin
Post Office Box 1267
Old Chelsea Station
New York, NY 10113

Advance Purchase Required. Tours usually sell out well in advance.