There are tour guides, and there are Tour Guides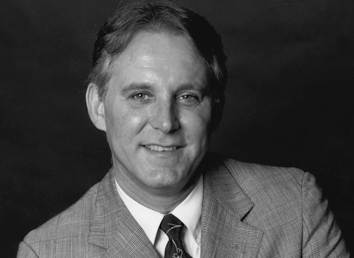 Tom Bernardin started work for the National Park Service in 1978 when he was hired as an interpretive historian, a formal title for the well-trained federal tour guides at the newly opened (1976) historic site of Ellis Island. Unlike today's view behind Ellis Island of a shoreline park along the uncluttered Jersey City shoreline, Ellis in 1978 was surrounded by the gritty industrial activity of a part of the harbor that was in decline. Rangers could boast of some electric lights on the tour route and of a total of six flush toilets on the island, and tours moved through walkways framed above with heavy plywood to protect visitors from falling plaster. All public visits were restricted to guided tours for safety reasons.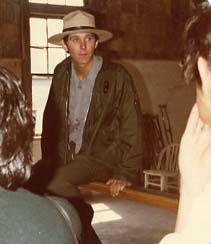 The island had no exhibits, films, displays, dioramas, gift shops or food available on the island. The rangers were the whole show--they were master storytellers, greeting each tour at the ferry slip and guiding visitors through the original part of the island for an hour and a half, describing the immigration process and answering questions. They also asked questions of their own, querying former immigrants and their families about their experiences. An accumulation of these stories added layers of complexity to each ranger's tours that one cannot find in today's static displays. Those of us who can compare the old Ellis tours and present-day Ellis still miss the richness of the earliest tours, before the island was restored.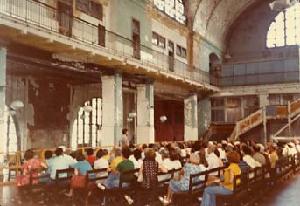 The tour season before restoration was limited by the weather, when travel to unheated buildings was tolerable--about six months a year. While many seasonal rangers moved on into full-time career positions elsewhere, Tom preferred to work at Ellis for the months he could and do something else the rest of the year, such as offering slide lectures about the island. His interest in this story of immigration inspired him to run a nationwide search to solicit recipes from the families of immigrants who passed through Ellis Island. These were published in The Ellis Island Immigrant Cookbook.
The following is his introduction to the cookbook. A passion for history and a love affair with the Statue of Liberty started it all. . .
In 1972, on a very serendipitous and rainy November Saturday shortly after I arrived in New York, I found myself on a walking tour of cast-iron architecture given by a most remarkable woman, Margot Gayle. There, squeezed into a doorway on lower Broadway, I heard the history of New York unfold through its rich architectural heritage. She spoke so enthusiastically of the city's growth and history that as the gray day turned into a darker evening, I felt as if! had been transported to nineteenth-century New York. The cast-iron buildings, lampposts, and street clocks were from another world. She easily knew the importance of preserving our past and was most anxious for us to understand. I then joined Margot's organization, the Friends Of Cast-iron Architecture. My membership card arrived attached to a small magnet to use in testing a building to see if it was made of iron. I was hooked!

I shortly became a volunteer and would often trek down to her West Ninth Street Greenwich Village apartment. We spent many hours typing and talking. It was, and is, a rich and rewarding experience just to be in her company. Soon we mounted a campaign to save thirty of' the old bishop-crook lampposts that once lined the streets of Manhattan. At that time I was teaching English to recent immigrants to America but due to the fiscal crisis of 1976, found myself out of work. Margot knew I was a collector of Statue of Liberty memorabilia and suggested I try to find a job there. I was, and still am, so enamored of the Statue that it had never occurred to me that one could actually just go there and find a job. Within a few days I was interviewing for a position at the Statue and also for one at Ellis Island, both being part of The Statue of Liberty National Monument.

It was on another rainy cold day in April 1978 that I first went out to Ellis Island. That was several years before the restoration began and the buildings were in deplorable disrepair. Only a small part of the island was safe enough to take visitors through, and after a two-week orientation and education program, we started giving tours of this dramatic and wonderful place. I found myself becoming gradually more absorbed in the stories of the people who had come there so many years before. On days when no visitors came, we had the run of the island and we began to explore. I'm not sure I encountered any ghosts, but certainly the deserted island and the buildings were filled with an overwhelming sense of importance and drama. Being part of its history and sharing it with wonderful coworkers and friends was certainly more than I could ever have hoped for. I returned for two more seasons, leaving shortly before Ellis closed once again, this time to begin restoration.

It was not so easy to walk away from such a profound experience, and soon I developed a slide-lecture program entitled "Ellis Island- The Golden Door." I presented over fifty of these programs, mostly to senior-citizen groups and nursing homes. Many of these people I was now meeting had been processed at Ellis at the beginning of their lives; and they were thrilled to know that their deep courage was being recognized by the people of America. Their "Plymouth Rock" was being saved for future generations, for all of us to try and learn of their extraordinary saga.

In giving tours of Ellis and talking with the immigrants, I became aware of how important food was to their experience, not just on a nutritional level, but as a means of bringing with them, and preserving, this part of their earlier lives. Soon they would shed their old clothes, learn to speak some English and, reluctantly or not, become Americanized. But their love for their foods from the old country was something they could not and, thankfully, did not give up. The rich smells from their kitchens surely brought a deep nostalgia for people and places they had left behind.

A couple of years later I did a national recipe search. This was a new experience for me and I had no idea what to expect. Well, once again Ellis island has brought me a heartening experience. The generosity and encouragement of the responses were beyond my wildest expectations. Some of the recipes I received were from the immigrants themselves, but most were from their children and grandchildren. Many, if not most, were very anxious to share that part of their lives that was so deeply affected by their immigrant ancestors. indeed, some of the letters read like love letters to the past they remember so well through the smells and memories of sharing foods they loved. I know for myself that all I have to do is make some Boston Baked Beans, and the smell alone transports me to Lawrence, Massachusetts, and the five of us laughing, joking, and teasing, with our parents desperately trying to maintain order.

My sincerest thanks go to all of you who were so kind to share your memories with me. And, of course, to my special friend, Margot Gayle. Thank you all.

November 1991 Tom Bernardin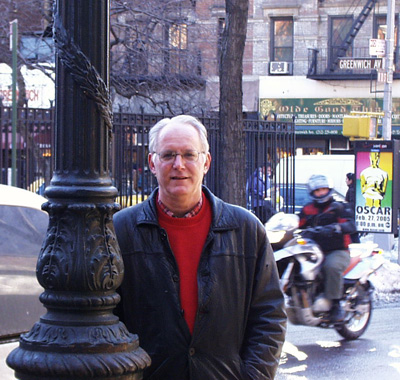 Today, when he isn't lecturing, writing, or touring around Ellis and Lower Manhattan, one can find Bernardin working on many historic preservation projects, such as raising funds to purchase and install historic replica lampposts in New York City neighborhoods.
Tom Bernardin
Post Office Box 1267
Old Chelsea Station
New York, NY 10113
(212)229-0202
Email: ellisbook@aol.com